Knights of Columbus
Bishop Fenwick 4th Degree Assembly 100

Invites you to the
Benefiting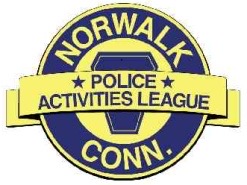 The Norwalk Police Activities League (PAL) is a 501(c)(3) nonprofit organization dedicated to providing the youth of Norwalk with positive alternatives to the all too available paths of idleness and delinquency that can ultimately lead to crime. 
The league provides various cultural, educational, and athletic experiences to these youngsters who are in the greatest need of leadership, guidance, and understanding.
Saturday, July 10, 2021 at 6 PM
Knights of Columbus Hall at St. Ann Club
16 Hendricks Ave
Norwalk, CT
Reservations Required: No Walk Ins
MENU
Family Style
Salad
Macaroni
Meatballs/Sausage
St. Ann's Chicken
Bread
Dessert
Soda/Water
  Cash Bar
Seating is limited so make your reservation as soon as possible.
50/50 raffle-to benefit the Norwalk Public Safety Cadets
For more information call George Ribellino at 203-856-7101